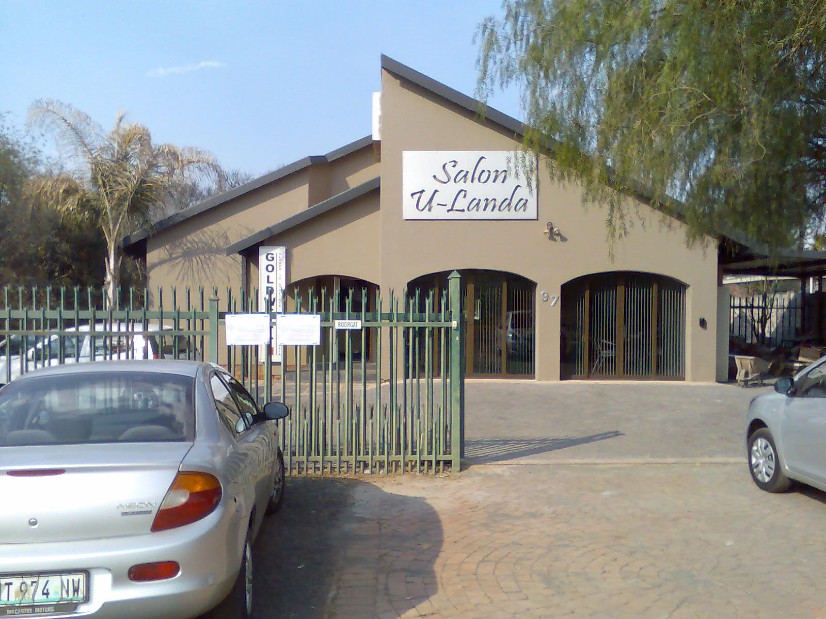 Dankie aan al ons lojale kliente vir die ondersteuning. Maak gerus gebruik van die invul bladsy onder vir voorstelle vir 'n beter salon ervaring. Vir julle gerief, is daar gratis Wi-Fi terwyl julle gepamperlang word. Vra vir die wagwoord.
Thanks to our loyal customers. Please use the responsive page below for suggestions. Please note we are Wi-Fi friendly for your convenience.
ADVERT : One bedroom flat available in secure cluster complex. Enclosed front garden and courtyard. Gas stove and geyser, prepaid for other. Ideal for pensioner or mature person. R5500 per month. Contact Zach 0714827777
Salon U-Landa is situated in the town of Hartbeespoort and offers a one stop service for all your hair, nail and beauty requirements.
Both sexes are welcome!
Services offered are:
Hair styling, cutting and colouring
Style consulting
Hair extensions (accredited Easihair salon)
Hair pieces and wigs - Jon Renau
Beauty treatments -Lamelle and Willa Crause
Eye lash extensions
Manicures
Pedicures
Ear piercing
Medi Heel treatments
Sugar Waxing
IPL
Spray Tanning
Permanent Makeup
and so much more
Contact us for the U-Extend hair extension range of products. Also now an accredited Easihair Salon. No more knots and bulges in your hair!
Special packages can be negotiated for weddings.
The salon is located on private property and therefore allows the client to relax in privacy with a self serving tea and coffee bar.
Booking is essential and the salon can be contacted at (012) 259 1696 during office hours, 0829506862 or 0716870726.
Emails can be sent to info@salonulanda.com or follow us on Facebook - Salon U-Landa.
Julle kan ook die kontak vorm invul vir navrae.
We are open Tuesdays from 08:00 through to Saturdays.
Please call for a booking.
We are located in Ifafi, Die Ou Wapad St 97 for map directions use map below. Enjoy waiting in the tranquility of a garden setting with a cup of tea.
SIEN ASSEBLIEF OOK ONS KORMORANT ADVERTENSIE VIR SPESIALE AANBIEDINGE.
REMEMBER, YOUR HAIR AND BEAUTY SECRET IS SAFE WITH US!
TERMS AND CONDITIONS APPLY. COPYRIGHT ON ALL PUBLISHED MATERIAL